Every year, Atlanta Homes & Lifestyles assembles some of region's most esteemed and talented designers to collaborate on the build of the Southeastern Designer Showhouse & Gardens. This annual, 3-week event unites architects, builders, and designers to allow them the opportunity to exhibit their unique design styles by giving each of them complete creative control of designing their own space within the home. This year's Showhouse was designed and custom-built from the ground up, allowing every interior designer involved the freedom to wholly express their vision for their own respective spaces.
On April 20th, agents of Harry Norman, REALTORS® were invited to an exclusive first look at the Showhouse where both agents and their clients toured the home. In addition to a private tour of the home, the guests of the HN Exclusive Event had the opportunity to speak directly with the designers about luxury housing trends as they sipped a signature spritzer and delighted in exquisite canapes from Avenue Catering. The 3-hour event hosted nearly 300 Harry Norman agents and clients to honor the artistry and extraordinary efforts that went into the development of this home.
This year's custom-built residence, located at 3628 Castlegate Drive NW, was constructed on an acre in Buckhead's Kingswood neighborhood and brought together a female dream team of creators including architect Linda MacArthur, builder EverCraft LLC, Kit Castaldo Design and Floralis Garden Design. The 9,300 sq. ft. home was inspired by vacation properties in Massachusetts' Cape Cod and Wyoming's Jackson Hole, with plenty of added inspiration from Atlanta's elevated fashion. With 4 levels, 5 bedrooms, 7 full baths and 2 half baths, the home was deliberately designed to be approachable and livable for family and friends to gather in open spaces, while still having personal, private areas to retreat to when needed.
Thank you to Atlanta Homes & Lifestyle for their tireless work each year in the curation of the Southeastern Showhouse, and a special thank you to all our Harry Norman REALTORS® and guests that came out to help make this year's 2022 Southeastern Showhouse HN Exclusive First Look Party one of the most memorable yet. Harry Norman, REALTORS® is proud to be an annual Diamond Sponsor of such an inspirational celebration of talent.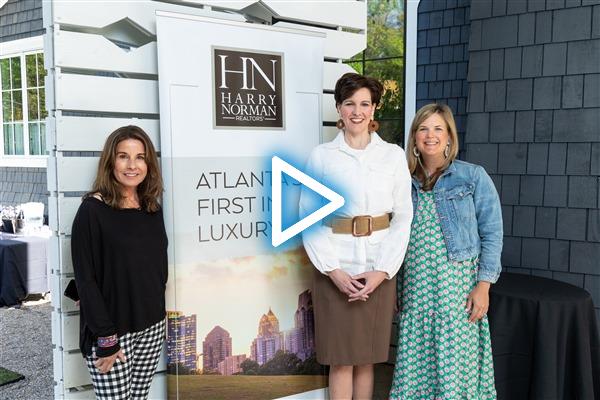 Of course, none of this would be possible without all the talented designers and curators that played a part in the creation of this year's Showhouse. Be sure to check out all the architects, designers, curators, and builders involved below.